Overview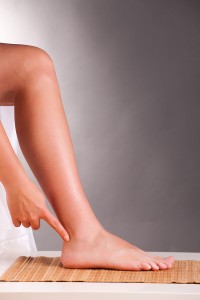 Achilles tendinitis is an inflammation (swelling) of the tendon, which usually occurs as a result of overuse injury. Anyone can have Achilles tendonitis. Athletics involving frequent jumping is the classic cause, but certainly not the only one. Any activity requiring a constant pushing off the foot, such as running or dancing, may result in swelling of the tendon.
Causes
Some of the causes of Achilles tendonitis / tendinosis include. Overuse injury - this occurs when the Achilles tendon is stressed until it develops small tears. Runners seem to be the most susceptible. People who play sports that involve jumping, such as basketball, are also at increased risk. Arthritis - Achilles tendonitis can be a part of generalised inflammatory arthritis, such as ankylosing spondylitis or psoriatic arthritis. In these conditions both tendons can be affected. Foot problems - some people with over pronated feet (Flat Feet) or feet that turn inward while walking are prone to Achilles tendonitis. The flattened arch pulls on calf muscles and keeps the Achilles tendon under tight strain. This constant mechanical stress on the heel and tendon can cause inflammation, pain and swelling of the tendon. Being overweight can make the problem worse. Footwear - wearing shoes with minimal support while walking or running can increase the risk, as can wearing high heels. Overweight and obesity - being overweight places more strain on many parts of the body, including the Achilles tendon.
Symptoms
Paratenonitis presents in younger people. Symptoms start gradually and spontaneously. Aching and burning pain is noted especially with morning activity. It may improve slightly with initial activity, but becomes worse with further activity. It is aggravated by exercise. Over time less exercise is required to cause the pain. The Achilles tendon is often enlarged, warm and tender approximately 1 to 4 inches above its heel insertion. Sometimes friction is noted with gentle palpation of the tendon during ankle motion. Tendinosis presents similarly but typically in middle-aged people. If severe pain and limited walking ability are present, it may indicate a partial tear of the tendon.
Diagnosis
During the physical exam, your doctor will gently press on the affected area to determine the location of pain, tenderness or swelling. He or she will also evaluate the flexibility, alignment, range of motion and reflexes of your foot and ankle. Your doctor may order one or more of the following tests to assess your condition, X-rays. While X-rays can't visualize soft tissues such as tendons, they may help rule out other conditions that can cause similar symptoms. Ultrasound. This device uses sound waves to visualize soft tissues like tendons. Ultrasound can also produce real-time images of the Achilles tendon in motion. Magnetic resonance imaging (MRI). Using radio waves and a very strong magnet, MRI machines can produce very detailed images of the Achilles tendon.
Nonsurgical Treatment
Ask your Pharmacist for advice. 1) Your Pharmacy stocks a range of cold packs which may be applied to the area to decrease inflammation. 2) Ask your Pharmacist about a temporary heel raise or pad which can be inserted into footwear to decrease the force absorbed by the tendon when the feet land heavily on the ground. 3) Gently massaging a heat-producing liniment into the calf can help to relieve tension in the muscle which may relieve the symptoms of Achilles Tendinitis. Ask your Pharmacist to recommend the most appropriate type. 4) Gels, sprays or creams which help to reduce inflammation are available and may be applied to the injured area. Ask your Pharmacist for advice. 5) Your Pharmacist can advise you on analgesic, anti-inflammatory medications such as Aspirin which may be of assistance. Aspirin should be avoided in children under the age of 12 and those aged 12 to 15 who have a fever. 6) Strapping the ankle can help restrict movement and minimise further injury. Your Pharmacist stocks a range of athletic strapping tape and ankle guards which may assist your injury.
Surgical Treatment
Not every Achilles tendon injury or condition requires surgery. It is generally understood by doctors and surgeons, that surgery will introduce more scar tissue into the Achilles tendon. This added scar tissue will be problematic, requiring physical therapy and conservative treatment options post-surgery. If not dealt with properly, your ankle and Achilles tendon could end up in worse condition than before the surgery! This is why surgery is only performed as a last resort.
Prevention
Suggestions to reduce your risk of Achilles tendonitis include, icorporate stretching into your warm-up and cool-down routines. Maintaining an adequate level of fitness for your sport. Avoid dramatic increases in sports training. If you experience pain in your Achilles tendon, rest the area. Trying to ?work through? the pain will only make your injury worse. Wear good quality supportive shoes appropriate to your sport. If there is foot deformity or flattening, obtain orthoses. Avoid wearing high heels on a regular basis. Maintaining your foot in a ?tiptoe? position shortens your calf muscles and reduces the flexibility of your Achilles tendon. An inflexible Achilles tendon is more susceptible to injury. Maintain a normal healthy weight.